Love, Loss and Transfiguration
Published January 02, 2018. Available in Hardcover and Softcover on Amazon.com as well as select bookstores
Set against a stunningly beautiful backdrop of design and landscape photography, this is a select collection of my previously unpublished poems. Inspired by the universal themes of love and loss, this is a very personal journey of experience, survival and transcendence that will touch each reader profoundly.
I am deeply honored, grateful and humbled to have loved, and been loved by some of the most incredible people ever to take breath on this planet. I mean love in its most complete range of expression: romantic, platonic, familial, spiritual, universal and the myriad other forms it manifests. When I look back at the journey through this gift called life, it is the love I hold for you all that will be my greatest treasure. For those lost to time, geography, mortality or whatever, that same love is also my greatest solace.
The words and images in this book were born of love too. You have laughed with me, cried with me, held me, and nurtured me. You have stolen my heart, broken it utterly and you have healed it too. We have adventured together, played together and grown together. You have saved both my figurative and literal life on so many occasions. More than you know if truth be told. Through it all we have changed. I like to believe we have evolved.
There is often sorrow in the words I write and the images I make, but so too is there joy and pure exuberant pleasure. This world we share is a marvel beyond imagining and there is beauty in even the darkest places. I hope you will find beauty here too. For you. This book is for you. See it HERE on Amazon.com.
The Ball in the Hall
Amazon Kindle Children's Book bestseller available in softcover and e-book formats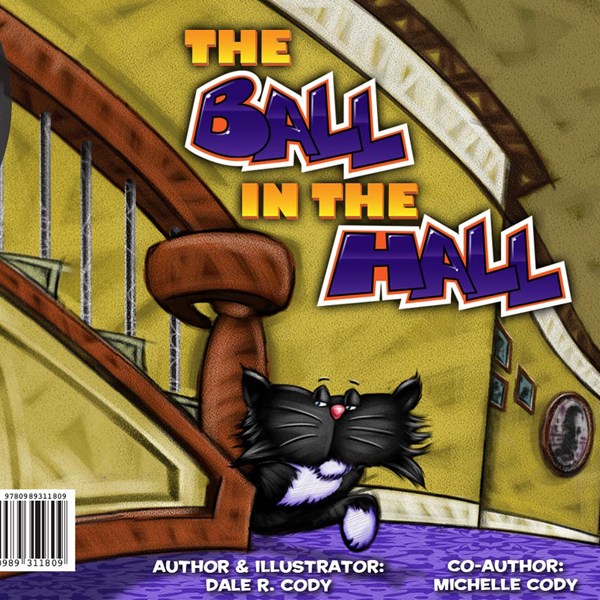 Two kids love their family kitty more than even they fully understand. Unfortunately, their beloved cat is so terribly stinky they can hardly stand to be near him. Mom is unhappy, but has a plan to remedy the situation with a thorough scrubbing in the bathtub. The cat does smell better, but it comes at a price no one could have foreseen and which nobody is willing to pay. It's the law of unintended consequence and unconditional love. Will the family find a solution to their dilemma and save their beloved kitty? See it HERE on Amazon.com.
In my experience, there have been few things as creatively unrestrained and fun as making my own kids book. I believe this genre is one of last great bastions of creative endeavor where you can let your imagination completely off the hook and still find an audience whose own imaginations rival or exceed anything you can cook up. Children's imaginations just have no bounds. In creating books for kids, I am able to connect with that child that still exists in all of us. There is pure joy and exuberance in this kind of creative process. Although I have a couple of other book projects I need to complete first, I am looking forward to writing and illustrating my next children's book soon.